THE THIRD CHAPTER.
To cause any Spirit to appear, and take any form, such as of Man, Animal, Bird, etc.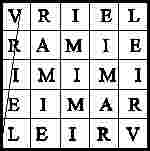 (1) It will appear in the form of a Serpent.

(2) To make them appear in the shape of any Animal.

(3) In Human form.

(4) In the form of a Bird.

NOTES TO CHAPTER III.
(a) The Symbols of this Chapter are manifested only by the Angel or by the Guardian Angel.
(b) ORIENS, PAYM0N, ARITON, and AMAYMON execute the operations hereof by means of their common Ministers.
(c) The Familiar Spirits do not execute the Operations of this Chapter.
(d) Take the Symbol in the hand, and name the Spirit desired, who will appear in the form commanded.