To demolish Buildings and Strongholds.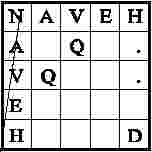 (1) To make a House fall to the ground.

(2) To destroy a Town.

(3) To demolish Strongholds.

(4 To ruin possessions (and Estates).

NOTES TO CHAPTER XXIII.
(a) The Symbols of this Chapter are manifested by the Evil Spirits only.
(b) A5TAROT performs the Operations hereof.
(c) The Familiar Spirits can to an extent perform the Opera-tions of this Chapter.
(d) No especial instructions are given regarding this Chapter by Abraham the Jew.