To discover any Thefts that hath occurred.

(i) Jewels stolen.

(2) Money.

(3) Worked Gold.

(4) Silver Workmanship.

(5) Effects, such as Furniture.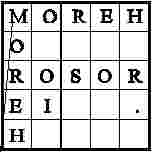 (6) Horses, and other Animals.

NOTES TO CHAPTER XXIV.
(a) The Symbols of this Chapter are manifested in part by the Angels, and in part also by the Evil Spirits.
(b) ARITON performs the Operations hereof; and MAG0T also; but separately.
(c) The Familiar Spirits can to an extent perform the Opera-tions of this Chapter.
(d) No especial instructions are given by Abraham regarding this Chapter.