THE THIRTIETH CHAPTER.
To cause Comedies, Operas, and every kind of Music and Dances to appear.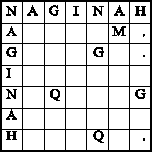 (1) To cause all kinds of Music to be heard.

(2) Music and extravagant Balls.

(3) For all kinds of Instruments to be played.

(4) For Comedies, Farces and Operas.

NOTES TO CHAPTER XXX.
(a) The Symbols of this Chapter are manifested only by the Evil Spirits.
(b) MAGOT performs the Operations hereof.
(c) The Familiar Spirits can to an extent perform the Operations of this Chapter.
(d) No especial instructions are given by Abraham regarding this Chapter.