Your work with grimoires, sigils, magick, etc., can get spectacular results when
you use a generator of life force (orgone generator, Welz Chi Generator)
Click Here for more details
caput quintum
This chapter has to do with the binding, loosing, flogging, and dismissing of the spirits. The following is for binding, when the spirit does not want to stay. Speak it three times.
Deus + Pata + binde + Jesus + Behalte + Deus + Spiritum + binde + durch + Kraft + Christi + Knuepfe + schliesse + the spirit (spirit name) Amen +++
Threefold loosening when the spirit refuses to answer
O Sa miha + Aseffonila + Ja + La + Mifflahi + Mehahinesi + Milonahireil
Flogging, to be spoken three times
When the spirit does not want to obey hit into the air with the switch, and hit also the spirit's seal. The switches that you use for the flogging of the spirits should be of the wood of juniper. Cut them on a Thursday in the new of the Moon early in th e morning before sunrise in the hours of Mars and Venus. Cut the following words into the switches: "The seed of the woman should stomp the head of the serpent" Defi + Ministrahel + Jasa + Mifana + Hisanam
Conjuration to the flogging
Prescio + Mipot + Domisiac + Tufi + Maha + Huschia + Laemelisete + Hedera + Cade + Veleadis + Locisomnibus + Amesiamin + ARIROSH + Laedemische + Jehonale + Hisipo + Amen +++ Podarasche + Podarasche
Dismissal of all spirits
O spirit (name of spirit) + Portam Benedictam + Sic tecum quasia horas siece mila + Amen
When the spirit does not want to leave, then speak:
Benedictus + est qui omnia regnat + per omnia secula seculorum + in nomine domini +++ Amen +++
You can also summon the Grand Dukes and all other spirits with the citatio that you find in my last will.
Fumigation to summon an evil spirit
Take garlic, sulfur, pitch, Christ herb, Burzel herb (?), put this on coal, and when the smoke rises be careful that the spirit does not press you, and speak the following words: O Lama + Basulai + Monai + Mempis + Lorrate + Pacem +
Doctor Johannes Faust's Noble Secrets
These are Doctor Johannes Faust's noble secrets and sigils that serve to protect every operator and practitioner of the FREE ARTS against the spirits, and which may also be carried with oneself for other purposes for which they are useful. This everyone should keep well and with respect. You should keep such secrets well hidden so that you will not suffer great damage, bad luck, or death. This keep well in mind.
Make this seal on a Sunday morning before Sunrise in the hour of Mars. You have to engrave it in gold. If you carry it on you, it protects you against all spirits so that they cannot hurt you. It also protects you against all your enemies when the seal is in a pouch of red velvet and when you carry it on the right side of the clothing.

You need to make this symbol on a Friday in the hour of Venus and you have to wear it in front of your chest. When you have dealings with the spirits, then you are secure and free from all danger. You have to draw the symbol on Virgin parchment with the blood of a bat.
Make this seal on a Monday during the hour of Jupiter. It will free you from all evil spirits.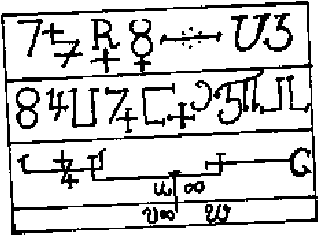 Make this seal in the Night of St. John (June 21st -- the translator) at midnight and on gold. If you bury this seal at a place where spirits are dwelling, they will leave rapidly and they will leave behind all their treasures.
This is a seal with which you can bind and coerce all infernal spirits when you show it to them during citations.
When you engrave this seal on silver and put it on a treasure, it will cause the treasure to rise and the treasure will be yours for certain and all spirits will leave the treasure. This is the most powerful seal that you will ever find.
This seal helps your emotions and also your body. If you carry it on you, nobody can harm your body. You will also win in everything that you begin. Everyone will be afraid of you. Engrave the seal in gold in the hour of the Sun on Sunday before Sunri se. With this seal, you can also make yourself invisible when you put it onto yourself in the hour of the Sun.
This seal is of use in all operations and it should never be left out, because it is the operator's defense and wall.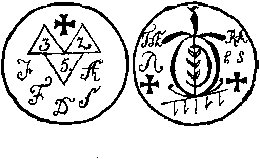 This serves against all spirits and evil beings. When you put it on a place they have to leave it. Engrave it on lead in the hour of Jupiter.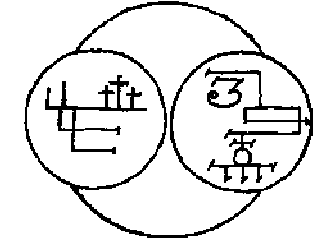 Make this seal in the hour of Mars and Venus on iron and copper, put it for nine days on a place where a treasure is buried, and all spirits will leave this place and you will find the metal covered with blood.
With these seals you can perform miracles. You are secure from all your enemies and nobody can harm you in any way. Fire and water are afraid of you and evil spirits have to leave. It is a powerful remedy against all diseases and you need no medicine. Nobody will deny you any request. Whatever you begin will come to a good outcome. All people have to love you and to fear you. You are fortunate in dealings with the clergy and in court. This is the most powerful seal that you possibly could find. Y ou should engrave this seal on gold in the hour of the Sun.
This seal is to be engraved on an alloy that is composed of all seven metals. If you put it on a treasure that has been transformed, this seal will bring the treasure back into its true shape. You should make this seal in the hour of Mercury on a Wednesday.
I have bought these last four seals in Holland for the enormous price of 8000 Ducats. I found these seals to be good for any situation. They helped me especially in the digging of treasures. I have been able to do with them anything that I wanted.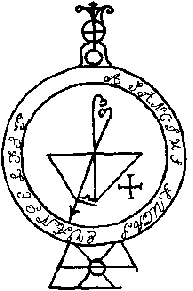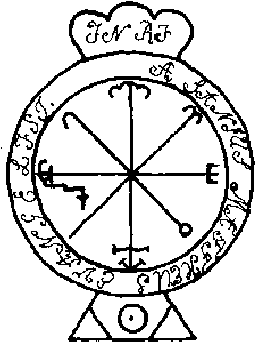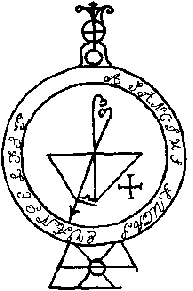 Your work with grimoires, sigils, magick, etc., can get spectacular results when
you use a generator of life force (orgone generator, Welz Chi Generator)
Click Here for more details